Welcome to Pets' Corner
---
In 2014, when council cuts meant the end of the long standing Pets' Corner in the park, a group of willing volunteers stepped up to take over the running of the area. The fancy birds were rehomed and the space was set up to better suit the remaining animals.
A few years on and the group have managed to raise a steady stream of funds from donations and fund raising to cover the vet's bills, food and other costs, including the not inconsiderable CCTV cameras installed to protect the animals. Current animals living at the corner include chickens, guinea pigs, rabbits, ducks, and of course Gandalf and Frodo the two goats.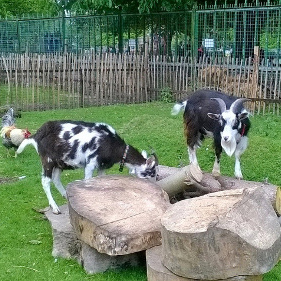 Once you've visited Pets' Corner you can sponsor your favourite animal for only £3 to £4 per month. Pets' corner are also always happy for donations of fruit and veg. There is a donation bin for any spare food.
Things the animals like to eat include: cabbage, tomatoes, lettuce, sweetcorn, kale, parsnips, swede, red apples, grapes, carrots, broccoli, peas, cucumber, peppers, cauliflower and melon.
Things the animals do not (and should not!) eat are: Onions, potatoes, leeks, green apples and citrus fruit.
Pets' Corner always needs more volunteers to help with either the day to day care of the animals, maintenance of the area or  fundraising. There is a regular morning and evening animal care rota, but any time would be greatly appreciated. Under 18s can help but must be accompanied by an adult.
For more info LongfordParkPetsCorner Facebook page. If you're interested in donating either time or money contact us using the form below.
---
---