Longford Park Community Allotment
- RYLANDS KITCHEN GARDEN -
---
Set up in 2010 by a sub group of the Friends of Longford Park, the community allotment surrounds the bowling green. It is a beautiful area, full of vegetables, soft fruit, a developing orchard, espaliered fruit trees and a herb wheel. Two large greenhouses have been installed for protected cultivation, as well as a beehive run by the Three Bees Co-operative.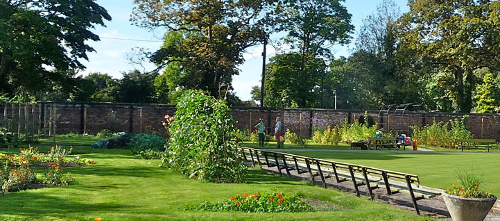 The work is entirely undertaken by volunteers, so we are always keen to have new gardeners. Don't worry if you can't commit to regular times or days, you can drop in to help in any of our sessions when it suits. We welcome those without any experience as well as those with some gardening experience.
Payment is in the produce grown, and what isn't used by volunteers is often offered to the public for a donation to the allotment.
We usually hold 2 to 3 open days a year where plants and cakes can be bought, you can chat to the volunteers and meet the bee keepers, and the weather is almost guaranteed to be sunny. We have also hosted other one off events such as 'preserving and pickling' and composting events.
Entrance is through the large black door in the wall near Pets' Corner and the Café.
The allotment is open to drop in and look round, or to join in the work on
Sundays 10am -12pm
Mondays 2pm - 4pm
Wednesday 10 -12pm
Thursdays 6pm -7.30pm (summer time only)
If you would like to find out more drop in to one of our sessions, contact Margaret on 0161 865 6064, or use the form when you click on the contacts button above.